Full cycle to issuance, processing and administration of cards
Evidence for your brand. Flexibility for your business. Control over finances.
Card processing and issuance
Your brand is present in financial transactions with the issuance of personalized cards, whether private label or integrated with the main brands in the market.
With our full service platform, you will have visibility and control over the entire cardholder journey, with governance, security and digital services for operational management and fraud prevention. All this with a robust processing structure.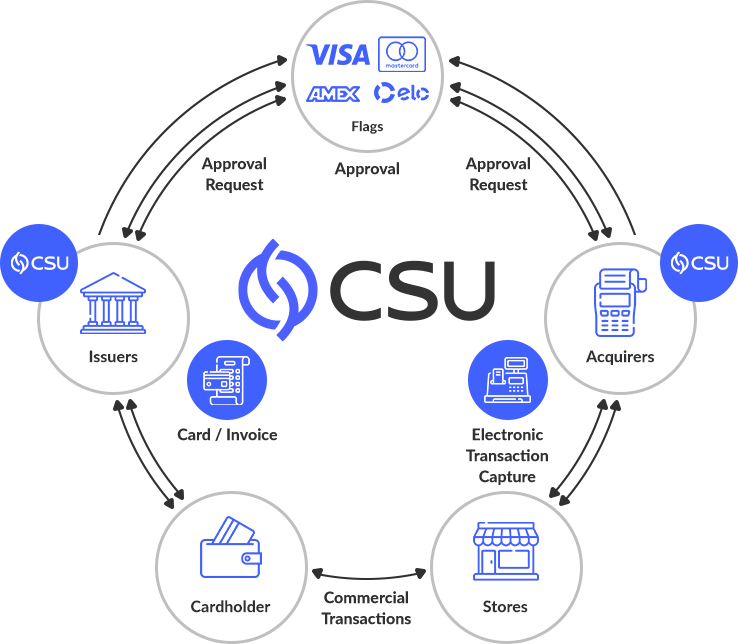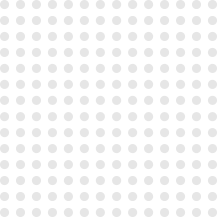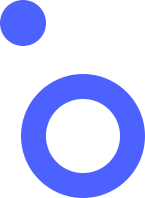 Digitize your processes. Transform the customer experience.
Bring more technology and intelligence to your business and transform the way your customers interact with your brand, products and services.
Count on CSU Digital's solutions for technology in financial services.
Wearables and virtual environments
Financial Transactions Filter Options
Segmented online blocking and unblocking
Digital invoice, barcode generation, automatic debit and installment option
Our microservices architecture allows you to combine the solutions that best represent your business objectives and connect your customer to your brand experience. Create a fully customized and optimized environment with great processing capacity, governance, security and compliance with regulatory bodies.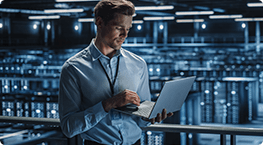 A more connected environment brings intelligence and efficiency to the entire processing cycle, which is why we have a hybrid platform (Wide Platform and Magnus) that allows integration with issuer systems and with various credit, risk management, compliance and service platforms, in addition to our loyalty and incentive platform, OPTe+.
Wearables and virtual environments
Give more freedom and security to the bearer from virtual cards, for online purchases, and digital cards that can be used in the main virtual wallets and integrated into wearable devices.
Increase your customer satisfaction by streamlining the use of the credit card and reducing bureaucracy, with a 100% digital experience. Account, onboarding and card, all digital, without the need to send a physical card.
Increase your customer's autonomy with the option to indicate travel periods and regions where they will be, avoiding blocking the card due to suspicious activities.
Financial Transactions Filter Options
Financial Transactions Filter Options
Segmented online blocking and unblocking
Provide autonomy to customers to control the online blocking and unblocking of their accounts segmented by: physical, virtual or withdrawal.
Digital invoice, barcode generation, automatic debit and installment option
Count on a wide range of collection methods with CSU. Our system allows you to generate the types most used by the Brazilian consumer without difficulty or complexity for your operations.
Have in your operation a simple and easy way to offer contestation, limit change, inclusion of additional, app and card password change, loyalty program management for your customers.
How can your company benefit from our solutions Processing?
The Card Processing solution promotes a modern way for companies from the most diverse segments to develop a structured and secure operation in all their business fronts.

Independence
We do not have any corporate or exclusivity relationship with clients.

Expertise
More than 25 years of customized platforms that combine technology, innovation and know-how in the means of payment market.

Customizations
Our platform is 100% parameterizable, largely secure and consistent to offer an efficient and scalable solution.

Database segregation
Strictly separated strategic and confidential information.

Safety
Contingency infrastructure ensured in accordance with the highest standards of confidentiality and integrity of cardholder data.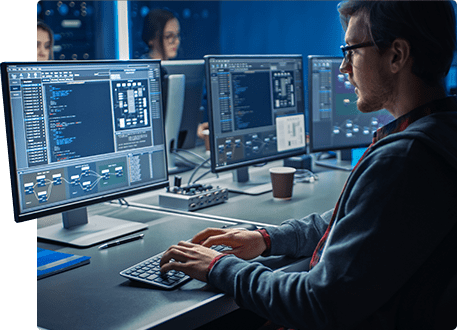 Modern and innovative technology
Our broad product portfolio combines intelligence and cutting-edge technology to provide highly agile and secure processes for companies in all segments, allowing to further elevate the delivery of each demand, be it simple or complex.
Additionally, our systems rely on a micro services architecture with high flexibility and API integration, allowing continuous development and 24×7 operation and complete security for processes and PCI compliance.
Companies that use our solution













The History of the CSU Pays Division
The Division, formerly known as 'Card System', started its activities precisely with the founding of CSU, taking the first step towards building customized payment solutions for the market.

First company to work with the three simultaneously in the country (Visa, MasterCard and American Express), promoting more sales opportunities for companies and a good shopping experience for customers.
CSU CardSystem consolidates itself as the largest independent card processor in Latin America, increasing its operational capacity and innovation to serve large companies in the country and the world.
First company to launch itself as an independent processor also for acquirers. In addition, CSU became the first independent processor approved by the MasterCard brand to provide services of acquiring.
Second quarter with record transactions carried out through the provision of acquiring services. Demonstrating the high capacity and robustness developed by CSU and delivering solutions that keep up with market demand.
Discover how CSU Pays solutions can transform your business
Develop an operation with high payment processing capacity with CSU, with innovation and flexibility. Get in touch with us and request more information about our solutions.